Teamwork Makes Dreams Work
Just like an on-stage production, we strongly believe every performance has two key ingredients: a passionate team of quality cast members and a quality script or process that allows the cast to succeed.
Our team is comprised of carefully selected professionals, each with different talents. As a result, this gives the team real depth. A team with passion for expressing mastery in their craft and passion in caring for you and your project.
Offering 'more than just a barn'; our goal is to provide you with a pleasant and valuable construction experience. Contact us today to begin your experience.
WE'RE HIRING!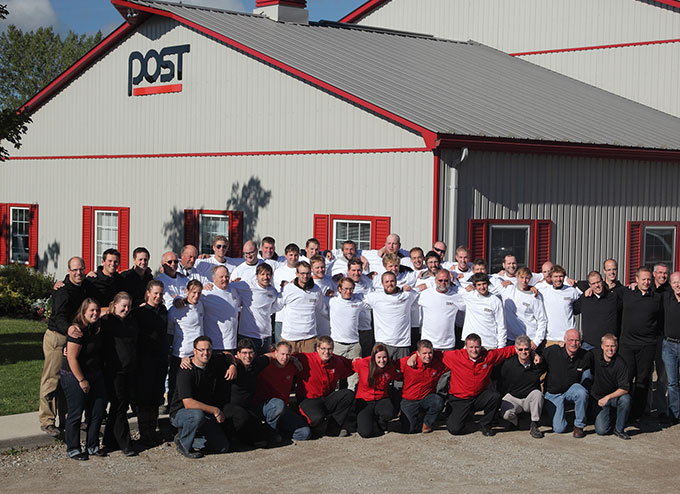 Our History
The First Chapter : Established 1974
E. John Post founded POST in 1974 at the age of 22. He was fresh from carpentry school with several years of experience, and the goal of bringing high-level quality and service to every job.  While the company's beginnings are in custom home building, it was John's grass-roots knowledge and love of farming that made agricultural building a natural fit.

The Second Chapter : A Second Generation Business
Each of John's sons grew up in the business with a 'hammer in their hands' and earned an understanding of the art of construction from its very basics. This training began at a young age, cleaning job sites and progressing to be crew leaders. Beginning in 1999, celebrating 25 years in business, John's sons, upon graduation of their respective studies, joined their father in the business.

The Third Chapter : Building for the Future
Today, the second generation has acquired the business and is leading it forward. We continue building a strong team while still keeping their business rooted in building quality and developing rewarding client relationships.
We love this business! While we have been established since 1974, in many ways we continue to feel like a passionate business 'start-up' which has only just begun!

Join Our Team
We always seek to grow our team with individuals who are positive and passionate. You can join our team and be a leader in your role as we grow together.
If you are interested in joining our team, please contact hr@poststructures.com.